I've been staying pretty busy this season by redoing the comic book adaptation for CYBER FIGHTER. Actually, it is an adaptation of the short film script which will hopefully be filmed sometime in 2021.
Many who have downloaded the previous comic adaptation might think this is the same content, but I've learned a few tricks since I did the first comic back in 2017. 
Here are some photos of how I go about creating each page of the comic. If you've ever thought about creating your own comic, this is a great workflow that you can use too!
My HP Omen Laptop has served as my portable film/editing/graphic design/writing studio for a few years now. Since it's designed for gaming, it's perfect for not only video editing, but also animation and comic book design!
First step — I take the short film script and draw out my intended layout on paper, rough sketching each panel. Decide how you want the story's pace, and that will inform how to shape each frame, and how much dialogue to include in each panel. Different panel shapes mean different things in the comic book world. I studied a lot of classic Marvel comics as well as modern graphic novels to get a sense on how other authors work.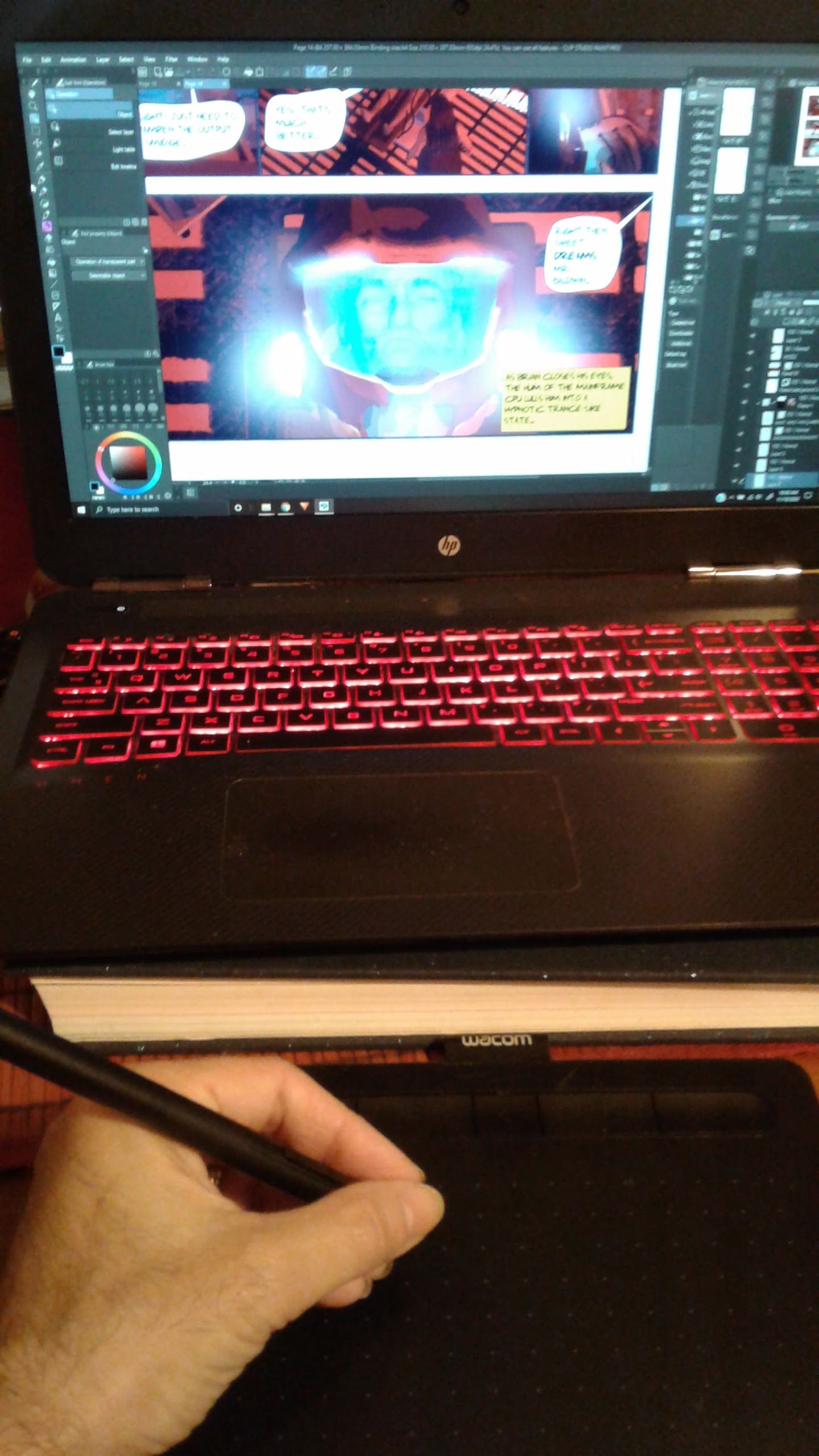 Next — I use the Clip Studio Paint software with my Wacom graphics tablet to map out the layout on the digital page. I draw each frame which will hold the content that I create in DAZ Studio.
DAZ Studio is a 3D animation program that I have used to create the animated sequences in the short film. Because I have the ability to customize my characters, I am able to model them to resemble Pamela & myself, which I did for the movie's animated scenes. The software is also great to take these characters and render out with a comic filter so that I can export to the comic book, saving lots of time not having to draw backgrounds and poses.
Each rendered frame from DAZ is imported into Clip Studio Paint, where I then do touch-ups and draw other elements, add dialogue balloons and lighting effects to create a high-end artistic look that matches the intended production design for the short film.
There's a big learning curve for all this, but as I've been working with DAZ for over 7 years now, I'm always trying to find different ways to use the program in my authoring and filmmaking processes. From pre-visualization to actual motion picture animation, it's proven to be a valuable tool!
In the past three years working on the short film, I've created CG assets and virtual sets that will be used in the movie. I am actually able to use these assets in the comic book too, making the adaptation match my vision for the film. The completed graphic novel will be used as a fundraising tool for the movie.
How are YOU staying creative this year? Feel free to share your thoughts!